HERE HE IS!!!
Al Hajji means a man who has made the Hajj (pilgrimage) to Mecca. Bature means white man. We figured since Alan was a regular temple worker for several years before we came to Nigeria, that he could use the title. Actually, one of our AUN logistics officers in Abuja named Ibrahim Buba gave him the title first. He is standing with two of our guards, Bala (on the left) and Phillip (on the right).
And here he is with Dauda our driver. They are dressed for the Sallah celebration called Eid-El-Kabir which marks the end of the Hajj.
The robe is called a gare and the hat is hula. These guards are Stephen (left) and Friday (right).
Here is Alan with the sleeves unfolded so you can see how big the gare really is. It is a sign of importance and wealth to have these huge sleeves that you constantly have to fold over your shoulders. He is standing with Craig Pearce who is Dean of the School of Business and Entrepreneurship. Please notice that Craig opted out of wearing the traditional sandals and went for his cowboy boots instead.
We went to the Lamido's Palace for a big celebration called Durbar, where tribal leaders present themselves to the Lamido and they are dressed in their finest. Here are just a few pics, the first is a young prince . . .
Here are some mucky-mucks . . .
We think that this is the Lamido in the blue robe, but it's hard to tell.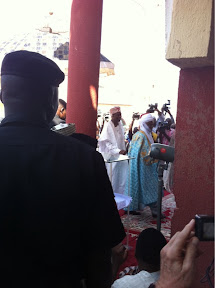 Barka de Sallah everyone! (happy Sallah!!)