EMMA IN UNIFORM!!!
I have to hurry and post this before Emma gets home from school and deletes the picture. She refused to wear the white socks arguing that since she is the only white kid in school with the only white legs and feet, then there is no need for her to wear white socks also. I think she makes a pretty good case. I mean, come on, look how white those legs are.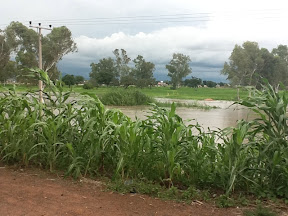 It is definitely the rainy season. Lots of flooding going on right now. I am sure glad that our home here is built out of concrete blocks because the storms are pretty ferocious.
Dauda, our driver, says that if we have another storm today the water will begin to cover the roads.
Did we mention that there are cows just wandering the streets?
Lots and lots of cows . . .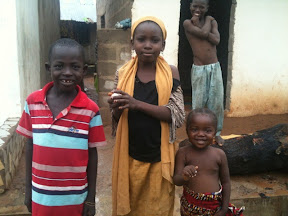 These children lived next door to the store where I bought Emma's school supplies. The tiny one was saying bye bye when I snapped this shot. The children here are beautiful. They stare at us everywhere we go and giggle when we say hello. It is fun to try and talk to them. There are actually a few more hiding in the alleyway behind these kids.
This is one of my favorite pictures that I have taken so far. This little girl was on her way to school and I snapped this shot as she passed in front of our driveway. She was waving at Emma. She was even more darling in real life.