Ok, so begins the search for the infamous meat grinder. Because if you want hamburger in Nigeria, it's no problem, just make it yourself. Easy right? But I am learning that 'no problem' has several different meanings and so I set aside an entire morning to go to the market in Jimeta and search for a meat grinder. This is the gate at the front of the market.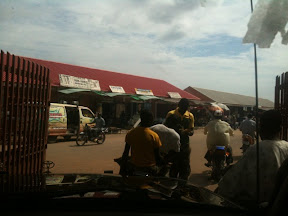 And this is inside the market. It is huge! Several streets like this one filled with little shops. It's like a treasure hunt somewhere between a dollar store and a flea market. See any meat grinders? Me neither.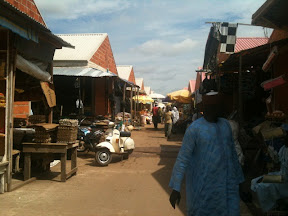 I loved this picture because of the young girl carrying something on her head. Apparently everyone here, except the expats, can carry almost anything on their head. (Don't worry, I am collecting pictures for a later blog on just that very topic.) Today is all about hamburger.
So, before you can buy anything you have to find the guy who will give you a good exchange rate. The Naira is around 155 to 1 dollar. So here's how I do it in my head. N1000 = about $7. And the N1000 is the biggest bill here. Everything is cash and so it's like carrying around a wad of 5-10 dollar bills everywhere you go. Here's a picture of some Naira.
And here is a picture of the nice man who gave me a good rate and a few teenagers who were hanging around the shop. The boy was selling water and the girl was just cute. If you can't afford to put your child in school then they don't go. So there are a lot of kids who try to make money at the market.
I restocked my wallet we began the search and after about an hour and a half of looking in at least 6 shops, we finally found the meat grinder that we wanted. By the way, these shops are not together, but scattered all over the market and I was really hot and sweaty by this point. Here is the shop that finally won and the man and woman who worked there. She was totally fun and loved me taking her picture, the man was very shy so I snuck this shot when he wasn't looking.
Of course, once you are in the market, you might as well keep shopping and I had other things I needed. This is the Cake House and it is one of a kind. It is the only place to buy Crisco, raisins, oatmeal, vanilla (kinda, it's either a yucky imitation or expensive oil), baking soda, etc. I took some pictures inside also. Umar is in red and guess what? He is officially our cook starting next week. YES!! Umar will have his own blog later as well. I also took a shot of one shelf in particular that caught my eye. Canned coconut alongside tuna, corned beef, canned mackerel and canned hot dogs!! What more could you want?
I loved this part of the market where there are spices for sale. It smells much better than some other parts.
I also needed some scissors, needle and thread so we went to a few sewing/ tailor shops. The first picture is fun because of the little girl and her mother. Then I passed this shop with 3 women and they started giggling when I asked if I could take their picture. They loved to see themselves and were so fun that I took several and promised to bring them copies. Can you see that there is no electricity and they are using old machines that you pump with your foot? Amazing!!!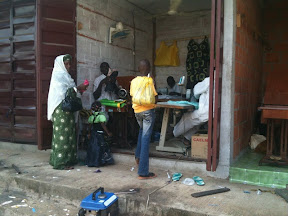 And here is the end of my tale. As for the meat grinder itself, I think it's fantastic!!
Whew!